STEPS:
Get yourself some ETH.
1. In MetaMask click on the button "Browser" (it's the fourth button from the left in the bottom menu).
You need to go to the "Uniswap Exchange" (copy/paste this link):
https://app.uniswap.org/swap
2. Connect your wallet.
Simply tap on "Connect wallet", choose "WalletConnect", choose MetaMask and approve the connection.
3. After connecting your wallet to the Uniswap, you'll see a "Swap" form.
In the first row, there is visible ETH and your balance.
In the second row, you should enter the address of the Wrapped Pulse smart contract.
This is the address:
0xA882606494D86804B5514E07e6Bd2D6a6eE6d68A
Copy that smart contract address, click "Select token," and paste the address into the search field.
Approve your swap and you'll receive WPLS.
3. Once you have the WPLS on Ethereum go to the PulseChain bridge and send it through.
NOTE: PulseX has its own bridge, and the way to use it is to download it to your computer and run it or you can access it via links on their website, which you can find under IPFS section. Please see their website and download it from there: https://bridge.pulsechain.com/#/bridge
Here, I'm using an alternative bridge
This is the link alternative bridge: https://tokensex.link
The function of this bridge is to exchange your ETH for PLS, which you will use to buy Chungalunga coin. Or in this case, your WPLS to PLS.
Steps:
1. Connect your wallet
2. Enter the number of WPLS you want to bridge to PLS (usually all WPLS you have got in the previous step)
3. Press button below and bridge your WPLS to PLS.
Native PLS is what you use to swap for the Chungalunga coin.
4. It's time to get some Chungalunga coins (CL).
NOTE: PulseX is fully decentralized tool; the recommended way to use it is to download it to your computer and run it. Please see their website and download it from here: https://app.pulsex.com (or use it on the web by following the links in the IPFS section).
It's extremely simple to use it, and you can see that in this short video:
Here, I'm showing you how to use an alternative swap, one of the most popular ones.
In MetaMask visit "Browser" tab again and go to:

Connect your wallet.
In the lower column click the name of the token that it shows you, and paste Chungalunga coin's contract address:
PULSE-CA————————————-
(screenshots are from PulseX, but it's almost the same thing at GoPulse.com/X)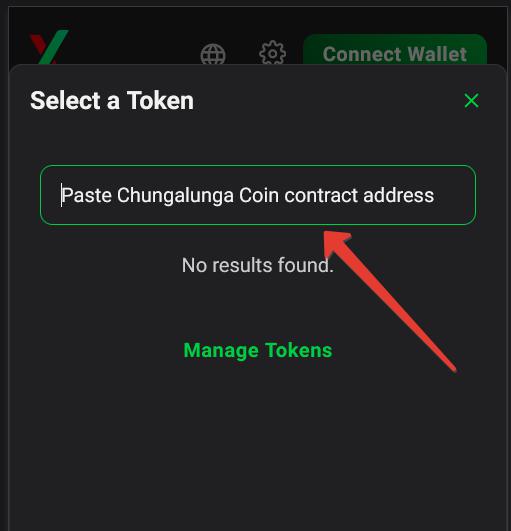 Now, simply put the amount of PLS you want to swap for CL.
Or write the specific number of CL tokens you want to purchase (and the amount of PLS will be recalculated automatically).
Click "Swap" and confirm your transaction.
That's it. You are now a Chungalunga holder!
Congratulations!
INFO: PulseX is the official decentralized exchange for PulseChain. There are alternatives from other people, and it's up to decide which one you'll use. I still recommend going with PulseX since it's super simple to use it.

Still confused?
Watch this video below on how to use MetaMask to purchase PLS.

After you have set up everything from the video tutorial, come here and follow Step 4. from the above to purchase Chungalunga coins (CL).


Contract Address:
PULSE CA—————————–

Chungalunga coin is traded only on decentralized exchanges, such as PulseX.
Since proper cryptocurrencies, like Chungalunga, are all about decentralization and moving away from the concept of centralized (government) control, we are in line with the roots of why cryptocurrency was invented in the first place.
"Not your keys, not your coins."
This way, thanks to proper decentralization, all control is in your hands, and nothing, such as the recent FTX collapse or anything similar, can make you lose your own coins.
If you are new to crypto, please learn more about it before exchanging your fiat (money) for crypto.